GENERAL PRODUCT INFORMATION
We have some information below that should give you some details on previous work from Utah Sign Co and Print. The content below can give you an idea on the timeframe, and details or construction and materials of your sign, wrap, or printed materials.
Eventually, a conversation will be best but until you're ready please feel free to read below. We are looking forward to working on your project. There is a form below if you want to give us some details before we schedule a phone call.
Missionary Banners / Welcome Home Banner
Want to show someone you missed them and are excited for their return. Get a custom banner designed to make them feel and know you care. Give us a call and we can help create something amazing. The images are samples of one design and the options we gave our client.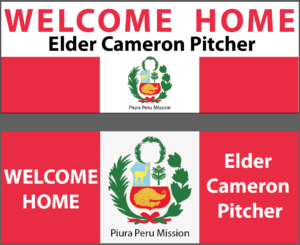 3D Reception Signs
Show off your brand with custom 3D/dimensional signs and lettering. With various high-quality materials to choose from, we'll help you step out from the crowd with a professional edge.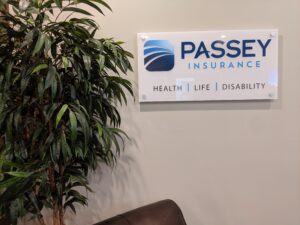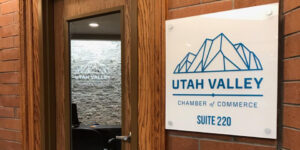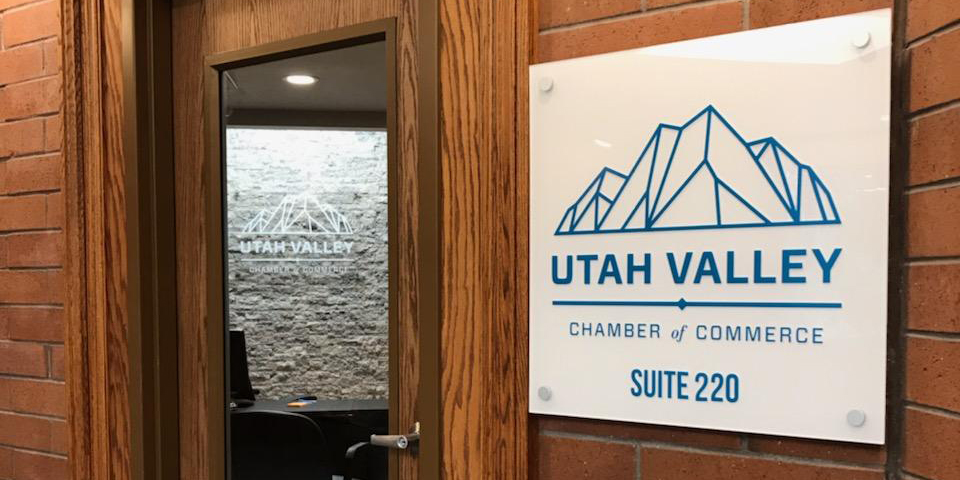 A-Frame/Sandwich Signs
Be sure to take advantage of all that passing traffic. A well-designed A-Frame can be just what you need to get customers to stop and take a look. These rugged and portable signs by Signicade come in a variety of sizes and styles. Options include chalkboard, whiteboard, message board, or a classic printed vinyl applied to a coroplast insert.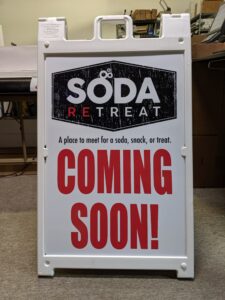 Photo Books
Your photos are lonely and want to be loved! Don't let them rot away on your phone or hard drive! Create the perfect gift and revisit the good times with our custom photo books! Visit our sister site, paperkiwi.com, to get started today. Offering various covers, sizes, and binding options, you can use our pre-made templates or take full control and customize it to your heart's content. Your loved ones (and your photos!) will thank you.
Backdrop Displays
A great option for keynote speakers, trade show and retail displays, event photo-ops, or custom studio setups.
Our portable Step and Repeat Backdrop includes telescoping 1.625" diameter poles that extend out, making them adjustable to certain sizes ranging from 7' to 10' in width and 4' to 8' in height.
Take your display to the next level with our premium tension fabric backdrops. Available in either straight (8' to 10' wide options) or curved design (6' to 10' wide options), these wrinkle-free backdrops will give your company the wow factor!
Looking for a little more depth and shape? Our Velcro fabric pop-up backdrops offer a clean, professional, easy-to-set-up alternative that is bound to impress!
For a consistent look at your speaker event, add a portable hard case with a podium print. This add-on, together with a pair of optional LED light, are available for both the tension fabric and Velcro pop-up backdrop options.
Campaign/Coroplast Signs
Available in both the standard 18×24-inch or a made-to-fit custom size, our corrugated plastic (coroplast) lawn signs are a good-looking, cost-effective solution to get your message out there.
Cards/Flyers/Announcements
With countless options for papers and sizes, we've got all your printing needs covered. Flat, folded, accordian-style, single-sided, double-sided, coated, laminated, basic or fancy, rectangular or die-cut, we've got just what you need to reach your audience in style with that perfect looking business card, wedding or graduation announcement, holiday card, postcard, counter card, brochure, flyer, or mailer. Drop us a line and let us help guide you to the perfect solution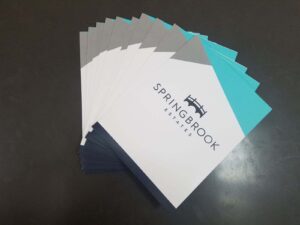 Feather/Flag/Teardrop Banners
Grab attention and make an impression with our feather, flag, and teardrop banners. Available in a wide array of sizes and styles, we'll find the perfect fit to draw customers to your event display or business door. Mounting options include a ground stake, heavy metal square base, and/or a cross base that can come with or without a water bag to securely weigh it down.
Floor and Wall Graphics
Take advantage of the often-underutilized square footage available on your flooring and walls. From wayfaring and information to art and entertainment, our floor and wall graphics are sure to make you stand out from the crowd!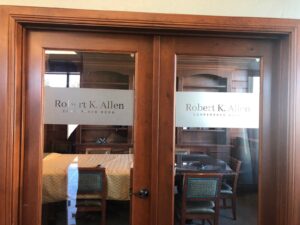 Graphic Design
You've got enough on your plate! With many years of education and experience, our team of designers will help you create or enhance that perfect look that your customers will come to know and trust. Call now to set up your free consultation.
Office Décor (Canvas Gallery Wraps, Metal Prints, Digital Photo Prints)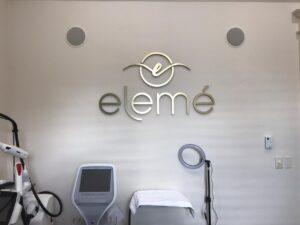 Uplift and inspire with a beautiful array of artwork for your home or office. We offer a full line of print and framing options including canvas gallery wraps, metal prints, and a huge assortment of papers and frames. Give your environment a splash of refinement and class. Choose that perfect family moment you've captured that's hiding away on your phone or select a gorgeous fin-art print from a variety of local artists. Give us a call and we'll help you create just the right mood for your space.
Pull-Up/Retractable/Pop-Up Banners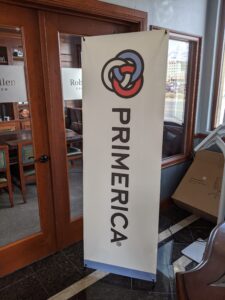 Simple, stylish, and super portable, pull-up or pop-up banners offer both convenience and professionalism. Choose from our selection of retractable, tension fabric, and x-frame banners to help you look good on the go.
Window Frosting/Decals/Perf
Window perf looks just like a tinted window from the inside but can be printed on the outside to offer both privacy and an opportunity to spread your brand.
With vinyl decals, you can maintain your window's transparency while adding helpful information such as your logo and/or business hours.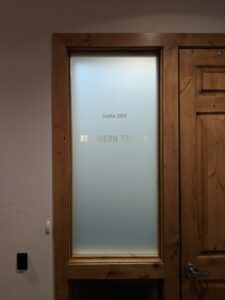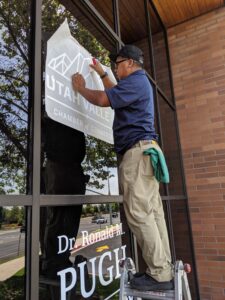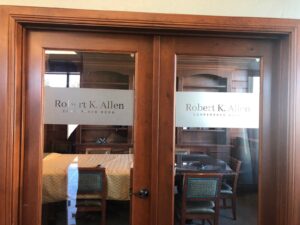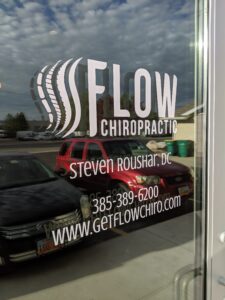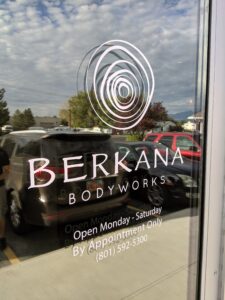 Real Estate Signs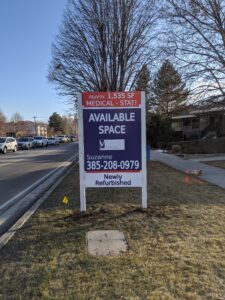 You've got to be visible if you want to close the deal! Make it easy for your potential customers to find you and get the information they need with the right collection of wayfaring and informational signs. Options include coroplast, aluminum, MDO, and more. Set up your free consultation to determine what's perfect for you property or open house.
Tradeshow/Event Displays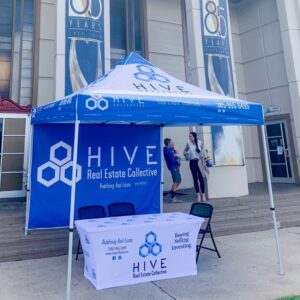 Don't get lost in the crowd! Create a clean and attractive look with the right combination of trade show and event displays. Options include backdrops, podiums, branded tents and table throws, pull-up or vinyl banners, table-top displays, A-frame signs, flag or feather banners, and much more, down to the flyers, brochures and business cards. Let us be your one-stop shop to get you to your event in style!
Vehicle Decals & Magnets
The roads are packed, and you may be missing out on the chance to cash in on some consistent and cost-effective advertising! Increase your visibility and improve your bottom line with a custom-designed decals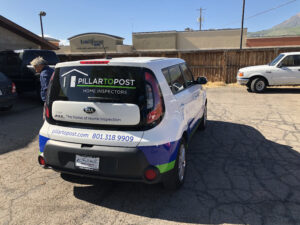 or magnet for your vehicle.
Vinyl Banners
From your kids' sports teams and parades to events and retail stores, vinyl banners are an effective, cost-efficient way to get your message across. We have various weights of banner material and a number of finishing options to give you just the right look. Options include reinforced seams and corners, Velcro, wind slits, D-rings, pole pockets, sewn-in rope, and/or grommets. Don't know what options are best? Just give us a call and we'll walk you through every step of the way!
Tell Us About Your Project